vkapoor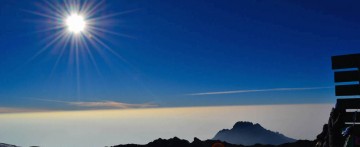 By vkapoor on December 12, 2015
A landmark agreement negotiated by over 200 countries to limit the rise of global temperatures to less than 2 degrees C was achieved on December 12, 2015. Read more in the BBC News Science and Environment Report Key points The measures in the agreement included: • To peak greenhouse gas emissions as soon as possible […]
By vkapoor on September 27, 2015
On September 28th, the Global Health Initiative (GHI) present's The Annual Global Health Recruitment Night! GHI is a student-led initiative incorporating students from a diverse range of backgrounds in global health education and training via workshops and social media resources. As well, GHI offers the opportunity to participate in international global health projects. On September 28th you will have the […]
By vkapoor on April 30, 2015
In 2013 a group of post graduate faculty members formed a network of post graduate and under-graduate programs within the school of medicine with a shared interest in global health in clinical work, research, project development and education. The Clinical Global Health Network (CGHN) seeks to coordinate the efforts of faculty members, students, and residents […]

By vkapoor on April 18, 2015
Save the date! The Global Health Conference 2015 is the first global health collaboration of its nature at UBC, bringing together leaders from diverse fields of expertise to shed light on changing perspectives in global health. Themed "Reinventing Global Health", this student driven conference will attract a breadth of leaders from local champions to internationally recognized front-runners […]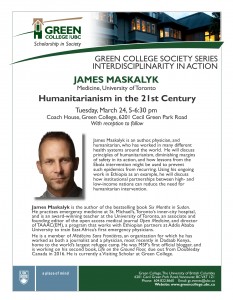 By vkapoor on March 20, 2015
HUMANITARIANISM IN THE 21ST CENTURY James Maskalyk, Medicine, University of Toronto Coach House, Green College, UBC Tuesday March 24 5:00 pm – 6:30 pm with reception to follow James Maskalyk is an author, physician, and humanitarian, who has worked in many different health systems around the world. He will discuss principles of humanitarianism, diminishing margins […]
By vkapoor on March 9, 2015
The UBC Global Health Initiative is holding its annual Pre-departure Workshop on Sunday March 15th.  Anyone is welcome to attend.  RSVP is required. Below is some important information regarding the mandatory Pre-Departure Training (PDT). Please read this email carefully and let us (or your project leaders) know if you have any questions or concerns. There […]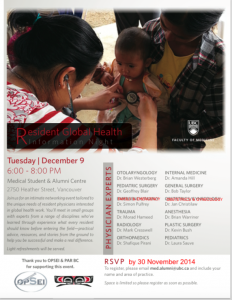 By vkapoor on November 20, 2014
Join us for an intimate networking event tailored to the unique needs of physicians interested in global health work. You'll meet in small groups with experts from a range of disciplines who've learned through experience what every resident should know before entering the field—practical advice, resources, and stories from the ground to help you be successful and make a real difference.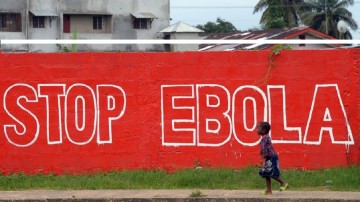 By vkapoor on October 10, 2014
The UBC Neglected Global Diseases Initiative has created an Ebola information page to keep you up to date on news, information and events about Ebola. Neglected global diseases are infectious diseases and other conditions that disproportionally affect the poorest of the world's populations. They include: HIV/AIDS, tuberculosis, malaria, a list of 18 neglected tropical […]
By vkapoor on October 10, 2014
The Canadian Paediatric Society will present the second in a series of webinars on pediatric immigrant and refugee health on October 22. Presented by members of the Caring for Kids New to Canada editorial board and funded by a grant from the Canadian Institutes for Health Research, the series provides practical information for delivering and improving care to newcomer children, youth and families.