By vkapoor on November 10, 2010
A few days ago I had the opportunity to attend a private viewing of the documentary "The Motherland Tour: A Journey of African Women" featuring Yvonne Chaka Chaka, a South African singer who is using her voice as a positive tool to bring about awareness of the struggles that women and children go through when facing global injustices. Yvonne's music has been the forefront of South Africa for twenty years and she is known throughout the world as the "Princess of Africa". She has sung along side Bono and Annie Lennox and she is considered as the daughter to Nelson Mandela who listened to her music during his difficult times in prison.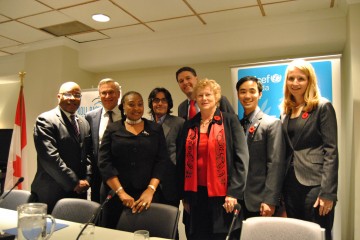 By vkapoor on November 8, 2010
On November 3rd in Ottawa, The Roll Back Malaria Partnership (RBM), a global partnership with the objective of eradicating deaths caused by malaria hosted an event in collaboration with The All-Party Parliamentary Caucus on Ending Malaria, The HIV/AIDS and TB Parliamentary Caucus and UNICEF to discuss Canada's role in achieving the UN Health Millennium Development Goals (MDGs) which include HIV/AIDS, malaria and Tuberculosis. This event included a discussion on "the way forward to reach the Health MDGs" by a distinguished panel of experts on global health and a screening of a documentary titled "The Motherland Tour: A Journey of African Women" featuring Yvonne Chaka Chaka.
By vkapoor on October 22, 2010
Despite extraordinary circumstances there are indications that the health of Afghans is improving. This report from the World Health Organization in Afghanistan shows the remarkable progress that has been made but also the day-to-day struggles the people face. Dr Soraya Dalil, Afghanistan's acting health minister, talks about the co-ordination needed at every level of the health system.
By vkapoor on October 2, 2010
The International Network for Cancer Treatment and Research (INCTR) "is dedicated to helping to build capacity for cancer treatment and research in countries in which such capacity is presently limited, and thereby to create a foundation on which to build strategies designed to lessen the suffering, limit the number of lives lost, and promote the highest quality of life for children and adults with cancer in these countries, and to increase the quantity and quality of cancer research throughout the world."
By Phyllis Feng on September 27, 2010
The Global Health Education Consortium (GHEC) is currently accepting applications for membership on their Student Advisory Committee.
By vkapoor on September 4, 2010
AMREF is looking for a volunteer medical doctor for a temporary posting at Kitwe Health Centre in
Ntungamo District located in South West Uganda. AMREF (African Medical & Research Foundation) is the world's leading African non-governmental
health care organization. With headquarters, history and feet on the ground in Africa, AMREF has a
deep understanding of the local economic, social and cultural realities of African communities. For
over 50 years, AMREF has worked to ensure access to good health for the most vulnerable and
marginalized people in Africa. With their active involvement, we develop and implement innovative
and sustainable solutions to critical health challenges facing the continent.
AMREF Canada supports AMREF in Africa to address critical health challenges by raising funds,
providing project support, building capacity, raising awareness and engaging the Canadian public in
African health development.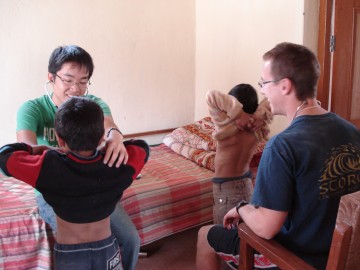 By vkapoor on June 18, 2010
This year marks the 5th year of the Medical Students' Global Health Initiative (GHI). In 2006, we started with three projects: India, Honduras, and Uganda. Not only do we have ongoing partnerships with communities in these countries, but we have also expanded our projects to new communities in India, Uganda, Kenya, and Canada.

By meditsd on June 8, 2010
AUCC has signed an agreement with IDRC for the management of the Canada Africa Research Exchange Grants. As part of this two-year pilot, IDRC aims to fund 7-8 grants worth a maximum of $40,000 each to support short-term exchanges between Canadian and African universities and research institutes that address IDRC research themes (health is included). […]